The Day We Made Bread
The easiest video to watch on line is the 'Realplayer format' version below. You do need to have Realplayer installed on your computer to make it work. You can get this free from any internet magazine disc or their website www.real.com but they make it hard for you - by trying to get you to buy the delux version. Just keep saying you want the Basic version and say no to all offers to keep you informed of latest channels etc. Don't do this at work without checking with your IT department ( That's Annemarie's View!).
The Real player version of Bread video
I've also now included a better 'mpeg' version that anyone with a windows 95 PC can look at. It is larger and could take a long while.
The 'mpeg' version of Bread video
If you would like a crystal sharp full screen version we can send you a CD -just email us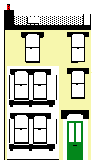 Click the house for the elmernet homepage