Sailing in Croatia 1999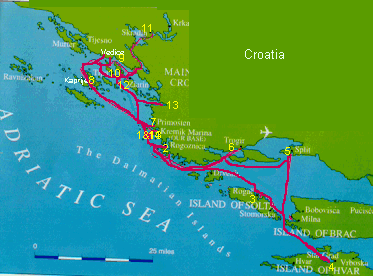 We had a fantastic two weeks sailing around the Dalmation islands (on a flotilla organised by www.sailingholidays.com. The sailing conditions were perfect, good breezes during the day and calm nights. We particularly liked the small islands such as Kaprije (night 8). With just a small settlement, no cars and stunning views across the islands, we even started looking at the refurbishment potential of an empty property! I think, though, that queuing (being pushed out) for the first fresh bread off the morning ferry, could become a bit of a bore. Much as I enjoyed peaches, bread, Dalmatian ham, and Croatian beer, I might miss the variety of food and people as well as the limitless choices of life in London.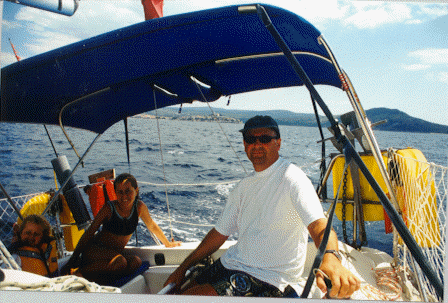 Our yacht, a Gibsea 29, was old and pretty cramped, but this was more than made up for by the way it had been adapted to make life easy in the Mediteranean. The bimini, a sunshade you could keep up while you were sailing, made passages in the heat of the sun much more comfortable. The electric windlass to pull up the anchor saved my arms and meant it was very easy to just anchor up for an hour or so in a bay for swimming and snorkelling.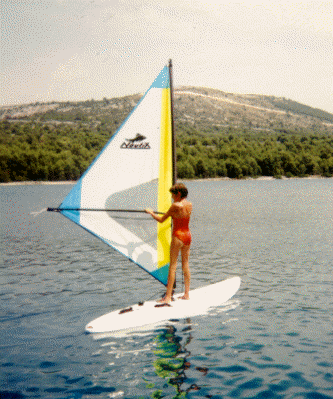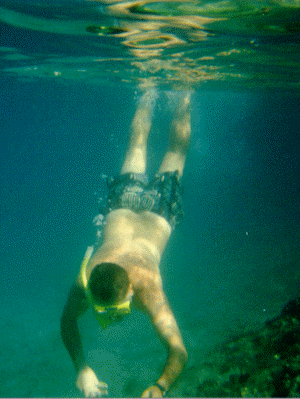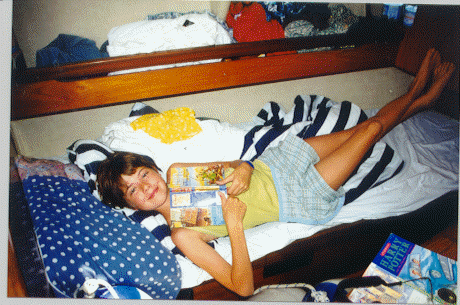 This is where Katie spent most of her time, while we were at sea, reading on her bunk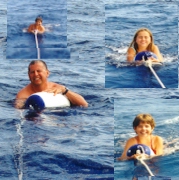 Katie did join us outside for "fender surfing", a good way of cooling down. The difficult bit is getting back on the boat!

Lizzie enjoyed herself aboard Rogac. She was the pet of the whole flotilla and became a leader of both the boy gang and the girl gang.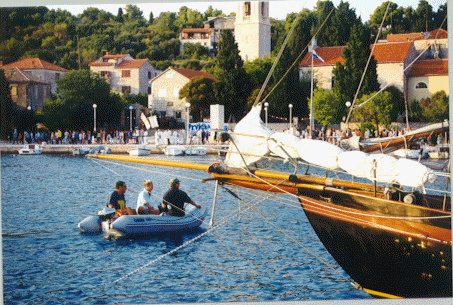 Most of our stops were on the quays of 'nice little towns' where the children could swim and play in the dinghy, while we enjoyed a quiet beer and a chat. Unfortunately in this town (Prima Luca, Night 10) it was the day of their annual 'Fest'. This started with a parade through town of all inhabitants, men in the front, women behind; progressed through cute five year olds singing out of key, to Croatian rock bands. We were in the centre of the party and we did not get any peace until the the youths of the neighbouring islands stumbled and sung their way onto the first ferry out, at 5am in the morning.

At Skraden (night 11) we swam beneath the Krka waterfalls. It took some strong swimming to make it against the current but once behind the sheet of water it was so different. Noisy but calm.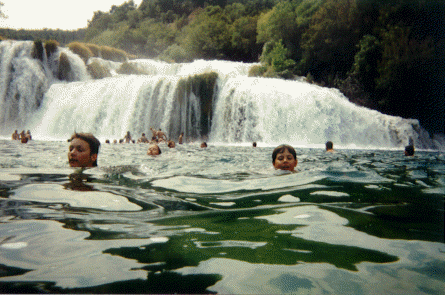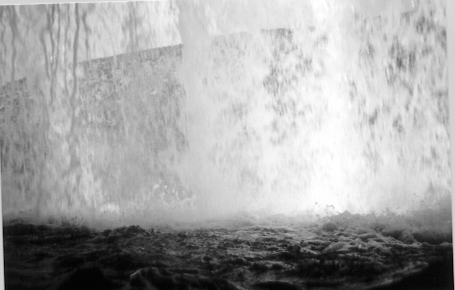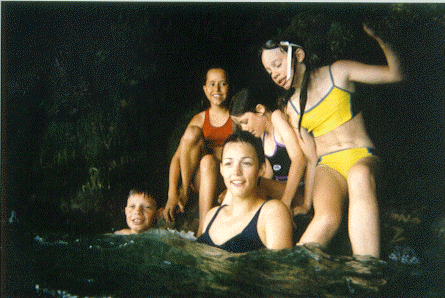 ---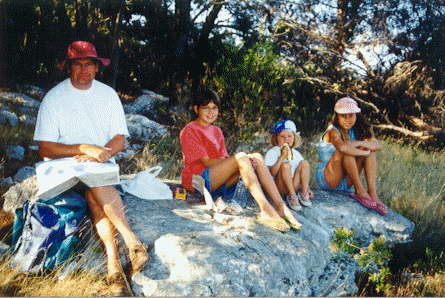 The final picture shows us eating breakfast high on a hill in Kaprije.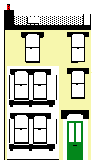 Click the house for the elmernet homepage