Hello you! This site was created to give family and friends (or anyone else interested!) an insight into our life in Shanxi Province, China. We are now back in England, but will keep the "Photos from Home" section updated for our friends in China and elsewhere. Richard will soon be off to Istanbul, so have a look at The Elmers in Turkey pages. Any comments are greatly appreciated, so don't forget to sign the Guest Book or try my new Message Board. Cheers!
Return to Dave Elmer's Elmers in China page for an overview of why we were there.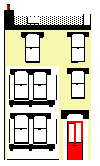 Click the house for the Chiswick Elmers homepage
The Elmers in China Photo Gallery produced by Richard Elmer.
If you have any comments or want to use any photos, drop me a line!
Revised: 16 Jul 2007 09:42:24 +0100.